Get stunning home interior designs in Pune-Mumbai
What we offer is absolutely free
What we offer is absolutely free

Prompt after sales support
Enside Elevation Interior
receives the "Global Excellence Awards 2022" for
Most trusted interior Designer in Maharashtra
Enside Elevation Interior
receives the "National Business & Service Leadership Award 2021" for
The Best Interior Designer Firm Of The Year (Mumbai And Pune)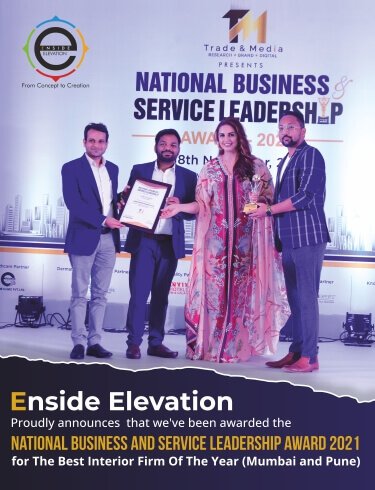 Enside Elevation Interior
Enside Elevation is the one-stop-shop for all your interior needs. With the breadth of experience, satisfied clients, exceptional service, we are the experts of all types of interior works. Enside comprises the cream of the crop designers, innovators, and masterminds. With years of proficiency in hand, you look at designs that draw customers, influence decision-makers, and display a comprehensively pleasing experience. Our vision is to make eye-appealing interior and environment-friendly designs, all the while making people's lives simpler and better.
"Away from all the ordinary, we turn the everyday aesthetics into something new, something beautiful"
We combine technical competences and creativity to produce proposals for homes. The emphasis is on enhancing the standards of functionality, efficiency, comfort, and top-notch appearance. Our services provide you the scope…
When it comes to designing spaces for businesses, we are recognized for our numerous commercial designs. We bring the ideal design to stand out for your business value, increase functionality, and lift up your style for financial gain…
I happened to come across Enside Elevation while looking for interior designing services. After I enquired about everything, the team patiently answered to all my queries. I decided to go ahead with them.
The end result that I got was absolutely stunning. My house got a new and descent look. A big thanks to the team. One can definitely trust on everything with Enside Elevation, as they deal with you so well.
Working with Enside Elevation was such a splendid experience. After going through the reviews for the company, I decided to give it a try and ended up having them for the renovation of my home.
I had no design sense, but had a rough idea in my mind about how I want my house to be. They got it so well and provided us suggestions as per our rough idea. From initial inquiry to the final renovation, the team was so patient and easy to work with.
Enside elevation is one of the best interior designing companies. They have made my home a much beautiful place than it was before. From furniture to plumbing, they took care of every single thing.
Their expertise with interior designing is a class apart. All their staff is well experienced and well equipped with all the technical expertise. 5 star rating for Enside elevation team.
Without any doubt, Enside Elevation is one of the best interior designing companies in the town. The way they personalized everything is amazing. They leave no stones unturned to beautifully remodel our house and look exactly like the way we envisioned it. Thank you so much for helping us in making our house lovely that too in our budget.
Best interior company in Pune. Me and my family reached to enside elevation interior office in December 2020 and understand every single process of interior in the same day itself. after that we signed the agreement and process started. Enside Elevation created whatsapp group for us so they can easily communicate to us. I would like to highly recommended Enside Elevation for transparent process.
Working with Enside elevation was quite a remarkable experience for my new work space.
My start-up business was in need of a complete renovation with adequate space for employees, cafeteria and ergonomic conference room. The best part was that they have effortlessly created multiple sections within a confined space for different office purposes.
A well-designed kitchen is the heart of your home. So don't compromise on its design and capabilities.
A new way to design a living room without breaking the bank!